ALL LEVELS
These classes are designed to accommodate all experience levels in one class. These moderately paced classes offer modifications and variations suitable for new beginners to advanced students. Suitable for ALL students.
LEVEL 1 - BRAND NEW & CONTINUING BEGINNERS
Designed for beginners, these classes provide a safe environment and are suitable for anyone to experience the benefits of yoga and learn the basics. Focus is on the correct alignment of basic postures within one's own body and basic transitions between postures. No experience or flexibility required.
LEVEL 1/2 - ADVANCED BEGINNERS & INTERMEDIATE
These classes are for both continuing beginners and students who are ready to step up the pace to build strength, increase flexibility, and breath awareness. Through more advanced variations of our Level 1 classes and a more vigorous pace, a wider range of poses, transitions and sequences will be introduced. Open to all levels including beginners with a solid understanding of the basics.
LEVEL 2/3 - INTERMEDIATE & ADVANCED STUDENTS
For students with an on going practice, these classes offer a more challenging practice to help you go deeper by working on more advanced postures and methods of practice. Recommended for students with at least 12 months consistent practice. Not suitable for beginners.
MIXED LEVEL
These varied paced, more vigorous classes are designed to accommodate a variety of experience levels in one setting. Modifications are given for easier variations of postures as well as invitations to experience more intermediate or advanced forms of a pose. Not suitable for new beginners.
PRE-NATAL
We welcome all our friends who are experiencing the amazing and wonderful adventure of pregnancy to Sanctuary. All Sanctuary teachers are versed in making appropriate modifications or adjustments to the flow of the class to accommodate you. You are welcome to join any class which suits your current level of yoga ability/practice.
Sanctuary Vinyasa Flow is our offering of a flowing style of yoga that seamlessly moves through the poses one breath at a time. Our classes incorporate an intentional and creative blend of sun salutations and other namaskars with a full range of poses sequenced in a way that provides the foundation to cultivate inner and outer alignment, strength and flexibility, stamina and grace. Music is selected for each class that perfectly complements the flow. Join us to grow stronger, connect with your breath, and open your body, mind and heart.
LUNCH HOUR FLOW
A Sanctuary signature favorite with a new name. Our version of a high powered lunch will restore, revitalize, and renew your body and spirit. The physical nature of the class heats the body from within giving you the opportunity to wring out the stresses of the morning grind. A strong class that will give you the fuel you need for the rest of your day.
EARLY MORNING FLOW
In one way, the quality of our lives can be measured by how well we manage stress and tension. This early morning transformative flowing class is designed to cleanse the body of tension and leave you feeling energized and alive; all without that morning 'cup of joe'.
Anjali Restorative Yoga is a rich practice of deep and meditative support, both physically and emotionally. The practitioner is held by bolsters, pillows and blankets for sustained periods of time in deeply rejuvenative postures. The hallmark of an Anjali Restorative Yoga practice is that the restorative spaces are held with incredible detail to ease, rich imagery, guided meditations, and restoring pranayama, or breathing practices.
YIN YOGA
Yin Yoga uses long, passive holds to work on the deep, dense connective tissues of the body - the tendons, ligaments and cartilage - which are difficult to energize and open. This deep, passive practice settles you into poses for 3 -10 minutes, bringing you inward.
Providing the same transformative benefits as our signature Sanctuary Vinyasa Flow class but with a slower pace. A foundational flowing practice that is challenging in it's own way. A perfect class for beginners or anyone who wants to slow things down while continuing to grow in their practice.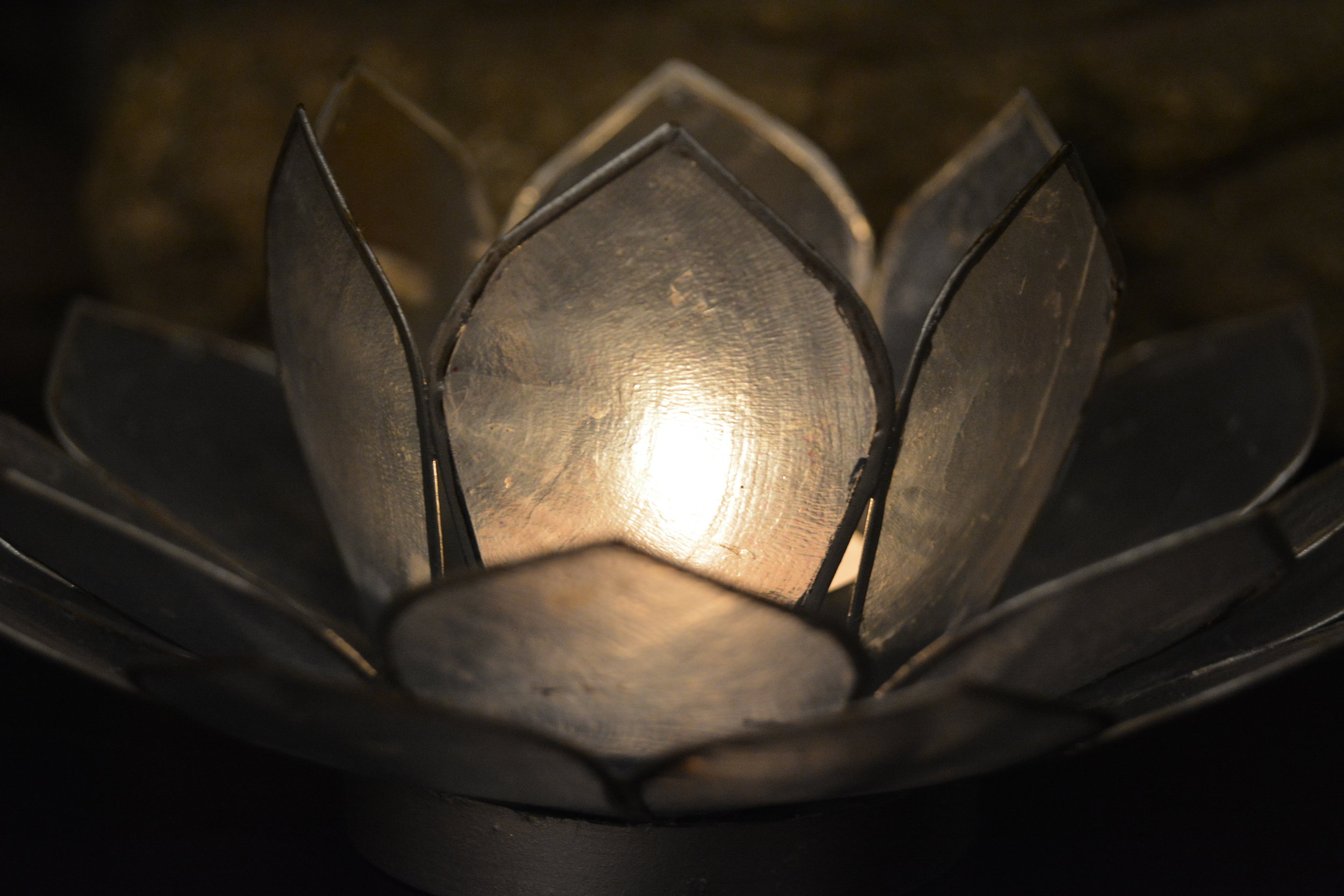 Mild and meditative 45 minute slow flow class for all shapes and sizes, utilizing props and breathwork, and encouraging self acceptance and laughter. No experience preferred, all are welcome. Join us!
Peel away the layers of your day as you melt into your mat surrounded by the gentle glow of candlelight. Music and the movement of your body in deep connection to your breath will heal, transform and awaken your heart while de-stressing your mind. Low to moderate intensity, all levels welcome!
Vinyasa series created by Sri Dharma Mittra. These sequences reintegrate the flow of prana throughout the spinal column and facilitate the movement of the vital life force deep into all areas of the physical, metabolic, intuitive and bliss bodies. This promotes harmony within all these layers so a concentrated state of radiant health is achieved. A series of deeper balancing, stretching, back bending, twists and some inverted variations and options will be explored. This practice finishes with Deep Relaxation, breathing exercises, and concentration/meditation certain to bring a deep sense of calm, increased sense of balance, peace, and invigorated energy to all students. Appropriate for all levels.